Vietnam International Furniture and Home Accessories Fair 2015 was opened at Saigon Exhibition and Convention Center, District 7, Ho Chi Minh City on March 11 with the attendance of 177 businesses from many countries and territories in the word.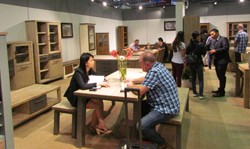 Businesses negotiate with foreign partners at the expo (Photo: VGP)
The number of businesses attending the event sees a year on year increase of 25 percent. Of these, 82 percent are Vietnamese and foreign firms operating in the country. The remaining ones come from 17 nations and territories such as Australia, Belgium, Canada, China, Demark, France, Germany and India.
Wooden products occupy nearly 73.7 percent of goods displayed at 900 stalls of the fair, handicraft items accounts for 15.4 percent and support industry products 8.3 percent.
Among activities of the fair are two seminars on human resource quality improvement for wood processing industry and exports to the U.S. market.
Vifa-Expo 2015 will open until March 14. It was hosted by the HCMC Department of Industry and Trade and Handicraft and Wood Industry Association.