Vietnam's benchmark VN-Index declined the most in one month on August 9, as investors panicked when the index sank below 480 points.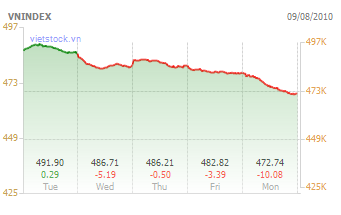 Movements of VN-Index on August 6. (Photo: vietstock.vn)
The shares of 253 companies and five mutual funds listed on the Ho Chi Minh Stock Exchange opened the week at 472.74 points, losing 2.09 percent, or 10.08 points, the steepest decrease since May 21.
Among the index members, only 16 stocks gained, while 224 dropped, and 18 remained unchanged.
However, trading volume on the city bourse improved as bottom-catching demand increased. Around 43.43 million shares changed hands at a value of VND1.19 trillion.
HCMC-based Refrigeration Electrical Engineering Corporation (REE) was the most active stock in volume with 1.67 million shares changing hands.
Thanh Cong Textile Garment Investment Trading Joint Stock Company (TCM) tagged along with 1.66 million shares, followed by Saigon Thuong Tin Commercial Bank (STB) with 1.19 million shares.
Hoang Long Group (HLG), Petrovietnam Finance Joint Stock Corporation (PVF), and Mientrung Petroleum Construction Joint Stock Company (PXM) all tumbled the daily maximum allowed limit of 5 percent to VND24,700, VND20,900, and VND17,100 respectively.
From June 1 to August 1, Nguyen Thanh Phong, member of the Board of Directors of Hoang Long Group (HLG), registered to buy 80,000 shares for investment. However, he was not able to buy them as prices were not as expected. His holdings are currently at 20,000 shares.
Among a few gainers, Ha Tien Transport Joint Stock Company (HTV) surged 4.92 percent to VND34,100.
Vien Dong Pharmaceutical Joint Stock Company (DVD) climbed 4.27 percent to VND112,000. The company announced its post-tax profits in the first six months reached VND101.85 billion, up 183.8 percent year-on-year, which meet 70 percent of this year's goal.
Binh Chanh Construction Investment Shareholding Company (BCI) added up 3.85 percent to VND45,900.
The Hanoi's HNX-Index also sharply dropped, erasing 2.9 percent, or 4.24 points, to close at 141.9. Trading volume increased by 26 percent over the previous trading session, up to 35.76 million shares, worth VND934.26 billion.
The UPCoM-Index slipped 1.96 points to 48.49 points. Trading volume was at 344,300 shares, valued VND5.74 billion, as of 11 am local time.