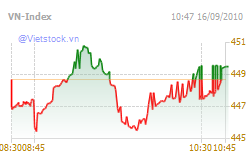 Movements of VN-Index on September 16. (Photo: vietstock.vn)

Vietnam's benchmark VN-Index struggled to add little change on September 16. Investors were still cautious as liquidity on the market remained low.
The shares of 255 companies and five mutual funds listed on the Ho Chi Minh Stock Exchange slightly rose 0.8 points, or 0.18 percent, to close at 449.52.
Around 38.07 million shares worth VND989 billion changed hands.
Of the index, 112 stocks advanced, 86 dropped, while 62 stalled.
Ocean Group Joint Stock Company (OGC) took the position of most active share in volume for two consecutive days with 3.24 million shares changing hands as foreign investors continued to favor this blue-chip.
Vietnam Export Import Commercial Joint Stock Bank (EIB) chased after with 951,480 shares. 3,781,100 shares of the company, which were frozen earlier, officially traded on the city bourse today.
Vinh Son - Song Hinh Hydropower Joint Stock Company (VSH) came in third with 918,470 shares.
North Kinhdo Food Joint Stock Company (NKD) jumped 4.99 percent to trade at VND44,200.
Quoc Cuong Gia Lai Joint Stock Company (QCG) advanced the third day, climbing 4.96 percent to VND27,500.
Construction company Ha Do Group Joint Stock Company (HDC) surged 4.91 percent to VND85,500.
From August 9 to September 10, Cao Tran Dang, member of the Board of Directors of Ha Do Group Joint Stock Company (HDC), bought 100,000 shares, increasing his holdings to 453,503 shares, accounting for 2.24 percent of the company's chartered capital, to raise ownership ratio.
From August 27 to September 6, Pham Hung Son, member of the Board of Supervision of HDG, sold 1,000 shares, reducing his holdings to 2,118 shares, for personal needs.
Ha Tien Transport Joint Stock Company (HTV) fell by 4.89 percent to VND42,800.
Construction company De Tam Joint Stock Company (DTA) closed down 4.88 percent to VND19,500. The company's shares have retreated for eight straight trading sessions.
Urban Development and Construction Corporation (UDC) declined 4.74 percent to VND18,100.
The Hanoi's HNX-Index edged up 1.19 points, or 0.94 percent, to finish at 128.4 points. Trading volume was at 26.01 million shares, valuing VND635.5 billion.
The UPCoM-Index inched up 0.32 points to 48.27. A total of 197,100 shares were traded at VND4.02 billion.