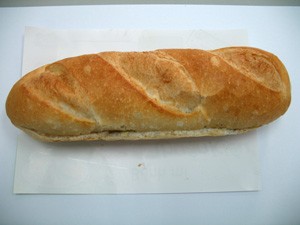 Banh mi (Photo: Tuong Thuy)
Banh mi, a Vietnamese sandwich, has been admitted into the Oxford English Dictionary, thus become an entry in the canon of existing 600,000 English words.
The UK-based dictionary explained that the food was ubiquitous enough in everyday conversation to add to the canon.

The UK-based dictionary included banh mi in its February 2011 update. The most recent update to Oxford Dictionaries Online saw lots of bloggable words put to the dictionary from babycino to silent disco.

There are plenty of words for onliners, with clickjacking, cybersecurity, and bounce rate included in the new additions. Foodies are also in for a treat with kleftiko, banh mi, chermoula, and gremolata all featuring.

The dictionary defines banh mi as "a Vietnamese snack consisting of a baguette (traditionally baked with both rice and wheat flour) filled with a variety of ingredients, typically including meat, pickled vegetables, and chilli."
The dictionary's example for this food reads, "along with classic banh mi, there are refreshing cold noodles and exceptional bowls of soup."
In Vietnamese, banh mi means bread. It is served anywhere, anytime.

Another famous Vietnamese dish long found in the Oxford English Dictionary is pho, which is defined as a type of Vietnamese soup, typically made from beef stock and spices to which noodles and thinly sliced beef or chicken are added.