Minister of Industry and Trade Vu Huy Hoang has clarified Vietnam's priorities in APEC cooperation framework at the 20th Ministers Responsible for Trade Meeting (MRT-20) that opened in Qingdao, China, on May 17.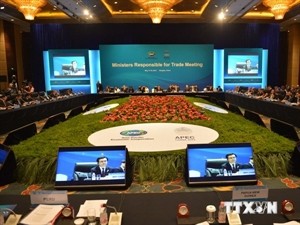 An overview of the meeting (Photo: VNA)
The priorities include partnership in supply chain connectivity, capital assistance for small and medium-sized enterprises, and the increase of investment in infrastructure development, Hoang said.
During the two-day meeting, the ministers will discuss preparations for the 22nd Summit to be held in Beijing in November.
They will also table the implementation of the forum's prioritised contents in 2014.
Established in 1989, Asia-Pacific Economic Cooperation (APEC) forum, or APEC, is an intergovernmental grouping that has worked to reduce tariffs and other trade barriers across the Asia-Pacific region, creating efficient domestic economies and dramatically increasing exports.
APEC's 21 member economies account for approximately 40 percent of the world's population, about 55 percent of its GDP and 44 percent of its trade. Vietnam joined the forum in 1998.
On the MRT-20 sidelines, Minister Hoang on May 16 had a meeting with Chinese Minister of Commerce Gao Hucheng.
He declared that China's illegal placement of the Haiyang Shiyou-981rig in Vietnam's exclusive economic zone and continental shelf is a serious violation of Vietnam's sovereignty and jurisdiction, infringing the 1982 United Nations Convention on the Law of the Sea as well as the Declaration on the Conduct of Parties in the East Sea signed by ASEAN and China.
China's move also went against the common perception reached by the two countries' leaders, he said.
Minister Hoang stated that Vietnam protests the act and demands that China immediately remove the oil rig out of Vietnam's waters.
He spoke of recent activities displaying angers at China's move at some foreign-invested firms, saying these were motivated by China's infringement of Vietnam's sovereignty.
Among those participants, there were individuals who took advantage of the situation to cause social disorder and damage assets of enterprises. They will be severely punished, Minister Hoang said.
He told his Chinese counterpart that the Vietnamese Government and relevant ministries have taken measures to ensure safety, property and operation of foreign businesses in Vietnam, including those from China.
During the meeting, the two ministers also expressed their wish to enhance bilateral economic, trade and investment partnership for the benefit of both peoples.
Minister Hoang also had bilateral meetings with the US Trade Representative Michael Froman, Minister of Trade, Industry and Energy of the Republic of Korea Yoon Sang-jick, and representatives of the American Business Coalition led by leaders of the US Chamber of Commerce.
He briefed them on China's violation of Vietnam's national sovereignty, as well as Vietnam's commitment to ensuring safety for foreign-invested enterprises' operations in the country.