Vietnam and Thailand convened their ninth bilateral conference on drug prevention and control cooperation in Hanoi on March 24, resolving to employ stronger measures to work towards creating a drug-free ASEAN region.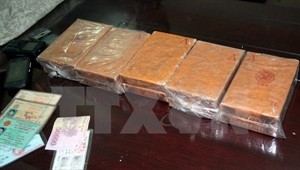 In 2014, Vietnam uncovered 19,195 drugs cases involving 28,880 suspects and seized 573.2kg of heroin (Photo: VNA)
The Vietnamese side was led by Lieutenant General Do Kim Tuyen, deputy head of the Ministry of Public Security's Police General Department for Crime Prevention and Control, while Secretary General of the Thai Office of the Narcotics Control Board Permpong Chaovalit headed the Thai delegation.
Reports released at the function reveal that in 2014, Vietnam uncovered 19,195 drugs cases involving 28,880 suspects and seized 573.2kg of heroin, 19.3kg of cocaine, 28.8kg of opium, 1,536kg of marijuana, and 65,314 synthetic pills. A particular increase in methamphetamine abuse has been recorded among the young in big cities.
Police have witnessed drug trafficking becoming increasingly sophisticated and hard to detect, with smugglers arriving by sea, air and across land borders. They have detected five trafficking routes into the country from the Golden Triangle, including ones passing through the northwestern provinces of Dien Bien and Son La, the conference heard.
Meanwhile, nearly 2 million of Thailand's 60 million-strong population are reported to be involved in drug use. About 91 percent of drug addicts in the country are men, while 24.1 percent are aged between 20 and 24. Perhaps most worryingly, 23.1 percent of addicts are between 15 and 19 years old. Around 60 percent of drug users are unemployed or do temporary work.
A large volume of drugs from the Golden Triangle transit through Thailand to reach other destinations around the globe, reports said, adding that the country seizes 10 tonnes of marijuana every year despite crackdown efforts over the last couple of decades.
Since Vietnam and Thailand signed a bilateral cooperation deal on drug prevention more than 10 years ago, they have actively shared information relating to drug crime, with Thailand regularly sending liaison officers to exchange data.