The Vietnam-Thailand Joint Committee on bilateral cooperation held its second meeting in Hanoi on March 20, during which both sides agreed to raise two-way trade to US$15 billion in 2020.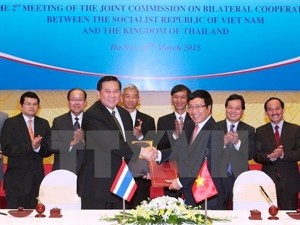 Deputy Prime Minister and Foreign Minister Pham Binh Minh and his Thai counterpart Thanasak Patimapragorn sign the meeting's minute (Source: VNA)
During the meeting, co-chaired by Deputy Prime Minister and Foreign Minister Pham Binh Minh and his Thai counterpart Thanasak Patimapragorn, both sides also pledged to enhance investment partnership by working closely in implementing large-scale Thai projects in Vietnam.
This move is expected to increase Thailand's investment in Vietnam by five times from the current level.
The joint committee agreed to propose organising the third joint cabinet meeting during Prime Minister Nguyen Tan Dung's visit to Thailand, which is slated for the first half of 2015, and holding the second ministerial meeting of the Joint Committee on Trade in Thailand soon.
On defence-security partnership, both sides will urge the organision of the seventh meeting of the political-security joint working group in Thailand soon, while speeding up negotiations for extradition deals.
Both sides agreed to hold discussion on the opening of a cross-border bus route between Vietnam and Thailand and promote coastal marine transport collaboration among Thailand, Cambodia and Vietnam, while striving to reach related agreements within this June.
Vietnam and Thailand will also foster labour cooperation by working together for a memorandum of understanding on labour cooperation and a recruitment deal, creating favourable conditions for Vietnamese to work in Thailand.
At the same time, they committed to enhancing agro-forestry and fishery coordination, while joining hands in dealing with issues related to fishermen and fishing vessels with humanitarian and friendship spirit.
Both countries reached high consensus on cooperation in other fields including culture, tourism, education-training, science and technology, and environment protection.
They also pledged to work closely together and with other ASEAN members for the formation of an ASEAN Community in 2015.
Regarding East Sea issues, both sides concurred to coordinate closely in promoting the settling of disputes through peaceful measures with respect for international law, including the 1982 United Nations Convention on the Law of the Sea. They also highlighted the importance of full implementation of the Declaration on the Conduct of Parties in the East Sea.
Thailand, as the coordinator for the ASEAN-China relations, will actively work with relevant parties to push for substantive consultations for a Code of Conduct in the East Sea (COC), the Thai Deputy PM vowed.
The two sides will also support each other in their bids for non-permanent seats in the UN Security Council, with Thailand to run for the 2017-2018 tenure and Vietnam 2020-2021. Thailand also backs Vietnam's candidacy for the UN Economic and Society Council in the 2016-2018 tenure.
They will also strengthen the sharing of information and experience in planning and managing water resources, especially in Mekong River, while coordinating in other mechanism, including the Mekong River Commission.
Following the meeting, the two Deputy PMs signed an agreement between the two Foreign Ministries. They agreed to hold the next meeting in Thailand in March next year.
Deputy Prime Minister and Foreign Minister Thanasak Patimapragorn is making an official visit to Vietnam at the invitation of his Vietnamese counterpart Pham Binh Minh.
Vietnam-Thailand two-way trade reached US$10.6 billion last year, a year-on-year rise of 12.5 percent.
Thailand ranks 10th among 101 countries and territories investing in Vietnam with 374 projects worth a total US$6.69 billion by March 2015.