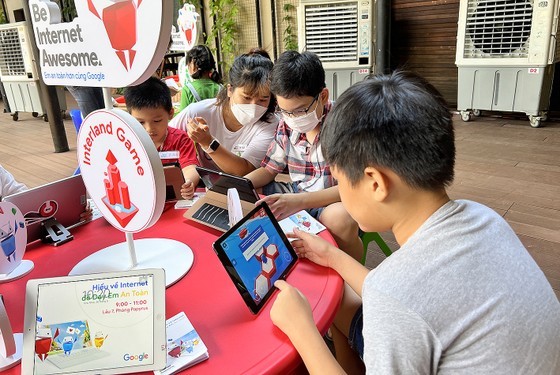 A workshop by Google introducing methods for children to use the Internet safely

Among various threats that children might experience when using the Internet are the four most serious:
_harmful information not suitable for their age,
_invasion of private life via uncontrollable uses of posted information for bad intentions
_virtual bullying through ridiculed, criticized, disparaged, or maliciously commented by netizens
_sexual abuse when receiving sensitive sex-related images or clips from others.
There are other risks like cyberattacks, malware infection to steal confidential information, or even unintentional participation in illegal activities.
Statistics from the UN reveal that 21 percent of the surveyed adolescent in Vietnam admitted being victims of virtual bullying, while nearly three-fourths are not aware of any hotline or supporting service to help them when they encounter such situations. This alarming figure requires immediate attention of the society, especially management units, the educational sector, and businesses in the cyber security field.
Advanced AI technologies nowadays allow effective filter of up to 90 percent of unhealthy content to children. However, there must be close cooperation among related sides for this filtering action to truly protect the young.
State agencies should urgently complete necessary regulations to protect children on the cyber environment. digital content providers must adopt technological measures to stop and erase harmful information to all netizens, including children. Manufacturers of computers, smart phones can integrate applications that are able to protect children from threats on the Internet.
More importantly, parents must be responsible for guiding their offspring's habits and activities on the virtual world not through prohibitions but via sensible rules such as not using computers and smart phones in hard-to-monitor areas at home and obeying the set time on the Internet for learning and entertainment purposes.
Meanwhile, schools should introduce the subject of digital citizen education in their curriculum to raise the awareness of children so that they can protect themselves when joining in social networks, entering the cyberspace. It is these codes of conduct on the Internet and safety manual in the virtual world that form their 'digital immune system'.
Obviously, the most challenging task now to clean the Internet from harmful content, especially for children, is the huge workload. It is calculated that every minute, there are 500 hours of video clip uploaded onto YouTube, which means around 6,000 clips of 5 minutes each appearing on this popular video channel. New trends on TikTok create billions of short clips just in a short time, not to mention those posted on social networks like Facebook, Instagram. It is absolutely impossible to screen these information pieces manually, but to use advanced technology.