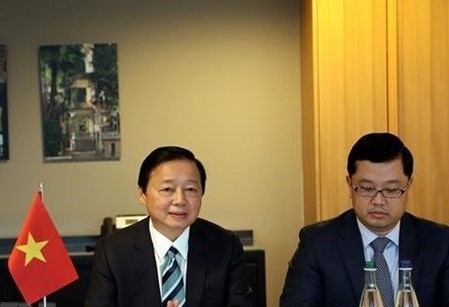 Deputy Prime Minister Tran Hong Ha (center) (Photo: VNA)
At a discussion of the Food Action Alliance, Ha shared Vietnam's experience in ensuring food security and agricultural development, saying the country has attached special importance to agriculture, taking it an economic spearhead.
The Party and the State have rolled out sound policies on agriculture and rural development, he said, noting that farmers, scientists, businesses and the State have been linked together and attention paid to international cooperation, notably the tripartite collaboration with the European Union (EU) and Africa.
Regarding food transformation, Ha highlighted opportunities in energy transition in parallel with food transformation, and the establishment of mechanisms in support of farmers.Apart from the tripartite cooperation, collaboration in building regional innovative centres on food and foodstuff systems in Vietnam is necessary, the official continued.In a keynote speech at another discussion on the Interplay of Food, Energy and Water, Ha stressed that issues regarding food, energy and water resources require a comprehensive and systematic approach.
It is a must to embark on green transition, and circular, low-carbon economy to address the interplay of food, energy and water resources, he said, emphasising that the matters of ecosystem, food, energy and water resources should go with climate change response.Ha used the occasion to share Vietnam's experience in ensuring food security and sustainable agricultural development.At a meeting with World Bank (WB) Managing Director of Operations Axel van Trotsenburg, Deputy PM Ha appreciated the WB's contributions to Vietnam's socio-economic growth, particularly its support of response to climate change and development of the Mekong Delta.
Affirming Vietnam's determination for shifting to the green, circular and low carbon economic growth model, Ha proposed the bank offer support in green investment capital, green finance, green technology, and policy consultation.The official recommended the WB set up a mechanism for experience exchange among nations, adding that Vietnam is willing to share its lessons in how to effective use borrowed capital for reducing poverty, changing the country's position from low-income to middle-income, and making fundamental changes in education and health.For his part, the WB managing director lauded the close ties between the WB and Vietnam, pledging his readiness to assist Vietnam in realising its goals, including to become an upper middle-income country, reduce net emissions by 2050, and shift to a green, circular economy, among others.
Receiving Group Chairman of Standard Chartered Jose Vinals, the Deputy PM affirmed that the Vietnamese Government always encourages the engagement of credit institutions with financial capacity, experience, support capacity, and administration expertise, in enhancing the operational efficiency and safety of Vietnamese credit organisations in Vietnam.Vietnam is prioritising and encouraging the development of green and sustainable finance, especially green bond market, he said, suggesting the group introduce and connect foreign investors, including those from the UK, to Vietnam.
Ha wished that the bank will provide technical support to the country's National Innovation Center, and participate in investing and mobilising capital for infrastructure and energy projects serving sustainable development.In response, Vinals said that he is ready to help Vietnam, provide technical advice, and continue to coordinate the implementation of projects under the Just Energy Transition Partnership.