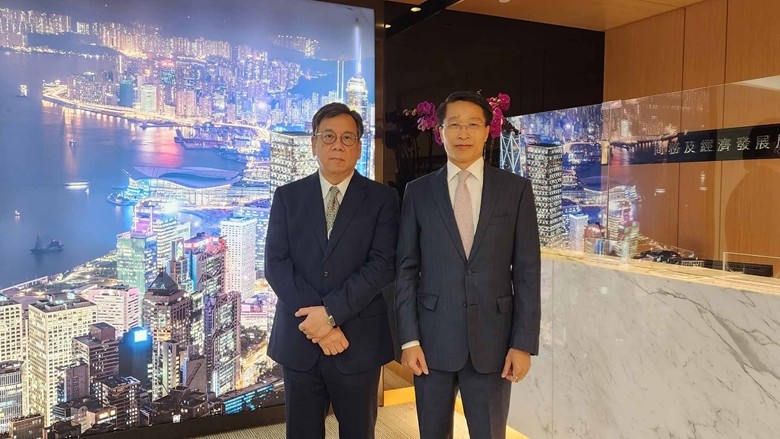 Consul General of Vietnam in Hong Kong Pham Binh Dam at a meeting with Hong Kong's Secretary for Commerce and Economic Development Algernon Yau. (Photo: Consulate General of Vietnam in Hong Kong, China)
Trade between Vietnam and Hong Kong grew 11.8 percent each year during the 2017-2021 period. In 2021 alone, the value reached HKD220 billion (US$28.1 billion), up 19 percent year-on-year.
Hong Kong is the fifth largest trade partner of Vietnam, while Vietnam is the seventh largest trade partner of Hong Kong, and the second biggest among the ASEAN countries, only after Singapore. The two-way trade in the first half of 2022 stood at HKD 125 billion, a year-on-year rise of 21 percent.
Algernon told the Vietnam News Agency that his recent visit to Vietnam for a workshop on business cooperation between Vietnam and the Guangdong-Hong Kong-Macao Greater Bay Area of China was a very "eventful and fruitful journey."
While in Vietnam, he met the Vietnamese Minister of Planning and Investment, the Minister of Science and Technology and the Deputy Minister of Industry and Trade to seek measures to boost the bilateral cooperation in the time ahead.
Algernon and his entourage of more than 60 representatives from Hong Kong enterprises had effective working sessions with the Hong Kong China Chamber of Commerce and the Vietnam Chamber of Commerce and Industry, he said.
He emphasised that Hong Kong businesses are very interested in investment in Vietnam and Vietnamese firms also expressed their interest in investment in Hong Kong.
During his stay in Vietnam, Algernon also visited an industrial park in the northern province of Hung Yen and had a "good discussion" with local authorities about cooperation opportunities.
Algernon said he saw substantial opportunities for trade and investment cooperation between the two sides in the time ahead.
Vietnam is a member of the Regional Comprehensive Economic Partnership (RCEP) and the Hong Kong Special Administrative Region Government has applied for accession into the RCEP since early 2022, he said, explaining that the membership would help to further facilitate the trade between Hong Kong and the RCEP countries.
According to him, Hong Kong serves as a platform to get into the Guangdong-Hong Kong-Macao Greater Bay Area and getting accession into the RCEP will facilitate the members to use Hong Kong as a platform to do business, both in Hong Kong and in the Greater Bay Area as well.
Highlighting Hong Kong's advantages, Algernon said they would help Vietnam and other RECEP countries do business in the region.