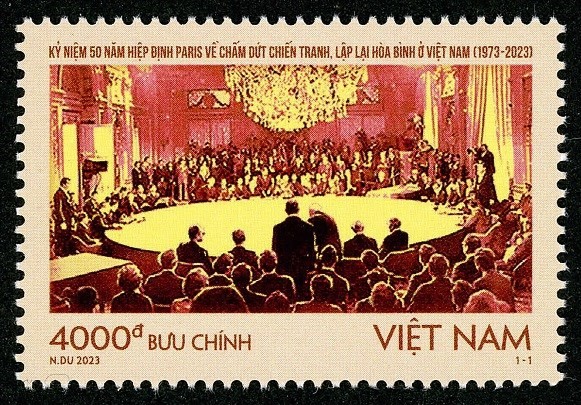 The stamp of the collection on the Paris Agreement on Ending the War and Restoring Peace in Vietnam (Source: vnpost.vn)
Published by the Ministry of Information and Communications and Vietnam Post, it includes a 46x31mm stamp valued at VND4,000 ($0.17). The stamp features the image of the four parties involved around a giant table as part of their roundtable discussion at the Kléber international convention center in France. Designed by artist Nguyen Du from Vietnam Post, the image has a brown-yellow-black tone, instead of its original black and white color, to reflect the tense atmosphere of the event.
The collection will remain in circulation until December 31, 2024. It was the second collection by Vietnam Post on the historical event, with the first consisting of two stamps and issued on January 27, 1975.
The Paris Peace Accords was signed on January 27, 1973 by the Democratic Republic of Vietnam, the National Front for the Liberation of South Vietnam, the Republic of Vietnam, and the US, after 201 open sessions, 45 high-level private talks, 24 secret meetings, 500 press conferences, 1,000 interviews and hundreds of get-togethers in support of Vietnam.
The agreement put an end to the longest and most difficult struggle in the history of Vietnam's diplomacy.