Viet Nam and Thailand will further boost multilateral cooperation, focusing on trade and investment activities in the coming years, the prime ministers of both countries said in Bangkok yesterday.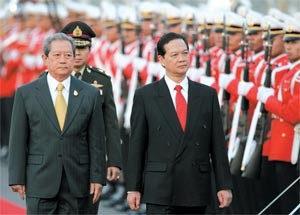 PM Nguyen Tan Dung (R) and his Thai counterpart Surayud Chulanont at the welcoming ceremony in Bangkok yesterday
Prime Minister Nguyen Tan Dung, who arrived in Thailand yesterday for an official visit, told his Thai counterpart Surayud Chulanont that he hoped the visit would further fortify fruitful cooperation between the two countries.

The two prime ministers agreed to promote trade activities and bring bilateral trade turnover to US$5 billion in several years to come. Last year, bilateral trade between the two countries reached US$3.1 billion, and this year, it was expected to reach US$3.4 billion.

They also stressed the need to speed up the implementation of the joint declaration on Viet Nam-Thailand cooperation in the first decade of the 21st century.

The two countries will also boost collaboration in epidemic prevention such as bird flu, foot and mouth disease, and in natural calamities, agriculture, rice and seafood exports, transport and communication and tourism; and work together in making full use of the East-West Economic Corridor.

Mr.Dung told his host that Viet Nam welcomed the Bangkok criminal court's decision to extradite Ly Tong, a Vietnamese-born American who hijacked a plane to illegally enter Vietnamese air space in 2000, to Viet Nam for trial and appreciates the Thai government's support for this issue.

He said Viet Nam expected to receive similar support from the Thai government in the case of Vo Van Duc, another Vietnamese-born American who tried to bomb the Vietnamese Embassy in 2001.

He thanked Thailand for its support for Viet Nam's accession to the World Trade Organization, the Asia-Pacific Economic Cooperation Leaders' Meeting held in Viet Nam last month and the country's candidacy for the non-permanent membership in the UN Security Council for the 2008-09 term.

PM Dung also expressed his thanks to the Thai government for its condolences and financial support of US$50,000 to help the victims of Typhoon Durian earlier this month.

The two prime ministers later witnessed the signing of a joint statement of the Vietnamese and Thai governments on the two countries' view point on security and another joint statement on general strategy for economic partnership between Viet Nam and Thailand.

Earlier in the day, PM Dung paid a courtesy visit to Thai King Bhumibol Adulyadej.

In the morning, Mr. Dung also attended the inauguration of the second Friendship Bridge linking Thailand and Laos as part of a project to improve transport and trade among countries in the Mekong Delta region.

The bridge spans the Mekong River and connects Thaliand's northeastern Mukdahan Province with Savannakhet Province of Laos. The project is part of a regional effort to link Thailand and Myanmar, via Laos, to the Vietnamese port city of Da Nang on the East Sea.