Five state-owned companies have teamed up to establish the country's first aircraft leasing firm.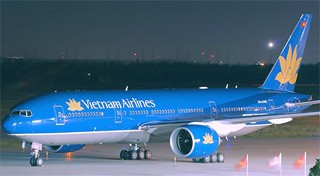 The establishment of VALC will help reduce the country's dependence on the international aircraft market
The Bank for Investment and Development of Vietnam (BIDV), Vietnam Airlines, PetroVietnam, shipbuilder Vinashin and Phong Phu Corp. are putting up US$200 million to form the Vietnam Aircraft Leasing Joint Stock Company (VALC).
VALC's chartered capital will be raised to US$1 billion later on, BIDV general director Tran Bac Ha told a press conference yesterday.

BIDV is the largest shareholder in the venture.
Besides leasing out planes, the new company will supply parts, operate an air taxi, develop technical and service facilities, and provide other airport services.
"We will also maintain and repair aircraft, and engage in business insurance, investment finance and such," Mr. Ha told reporters.
For clients, VALC will target Vietnamese and foreign airlines as well as companies involved in oil exploration, geological surveying, rescue work and goods transportation.
First up, VALC will negotiate with Airbus and Boeing to buy medium and long-range planes for leasing to Vietnam Airlines or other domestic carriers.
The first planes will be used for short hops like Ho Chi Minh City to Phu Quoc Island, Nha Trang and Lien Khuong, and Hanoi to Dong Hoi and Ha Long.
"We will help promote Vietnam Airlines, increase the number of Vietnam-owned planes and reduce the country's dependence on the international aircraft market," Mr. Ha said.
VALC will apply for a business license next month.
To improve its prospects, the company is seeking the prime minister's permission to upgrade Cam Ranh and Phu Quoc airports, operate night flights, and expand the services at Long Thanh Airport.