The guided missile destroyer USS John S. McCain (DDG 56) visited Da Nang on August 10. The US naval ship anchored at Tien Sa Port in the central city of Da Nang with 23 officers and 315 sailors aboard, starting their five day courtesy visit to Vietnam.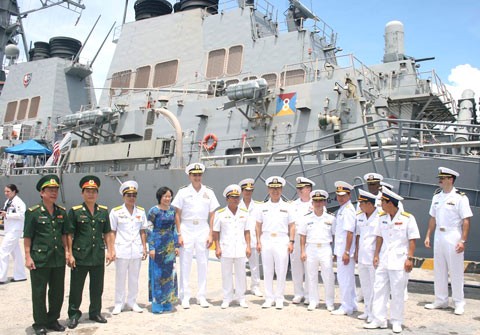 Naval officers of the two countries at Tien Sa Port
The visit, commemorating the 15th anniversary of the normalization of relations between the two countries, also begins the first-ever military training exchanges between the U.S. and Vietnamese People's Navy.
During their visit, the crewmembers will share their experiences conducting sea rescue missions and containing navel emergencies; they will also play sports with the city's students and soldiers of Naval Zone C, conduct humanitarian health check-ups and administer treatments at Son Tra district's health clinic and other activities
The U.S. Navy has visited Vietnam several times in recent years. The Navy conducted two port visits to Vietnam in 2008. In 2009, the aircraft carrier USS John C. Stennis (CVN 74) hosted the first-ever fly out of Vietnamese visitors to a U.S. aircraft carrier.
The U.S. 7th Fleet command flagship USS Blue Ridge (LCC 19) and the guided-missile destroyer USS Lassen (DDG 82), commanded by Vietnamese-American Cmdr. H.B. Le visited in November 2009. The hospital ship USNS Mercy (T-AH 19) visited Vietnam in May 2010, as part of a large-scale humanitarian assistance mission.
In addition to port visits, two Military Sealift Command ships have undergone voyage repairs at Vietnamese shipyards. In February-March 2010, rescue and salvage ships USNS Safeguard (T-ARS 50) and the dry cargo-ammunition ship USNS Richard E. Byrd (T-AKE 4), had work done at the Cam Ranh Shipyard, at Hon Khoi Port, Van Phong Bay.