Typhoon Durian was just 320km east of Viet Nam's central coastal provinces of Binh Dinh and Khanh Hoa at 22:00pm local time yesterday evening and is expected to hit the region today.
According to the National Hydro-Meteorological Forecasting Center, the eye of typhoon Durian at 10:00pm yesterday reached the latitude of 13.3 degrees north and a longitude of 112.2 degrees east, around 320km off the central coast from Binh Dinh to Khanh Hoa provinces. The typhoon regained its strength to category 13, with 118-149km/h winds.
The typhoon is predicted to move in the west and south-west direction during the next 24 hours at about 15km per hour. At 4:00pm today, the center of typhoon will be about 60 km east of Khanh Hoa coastal province.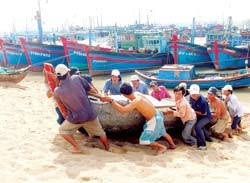 Fishermen in central coastal provinces move their boats ashore before typhoon slams into the region.
The center forecasted that the devastated typhoon's epicenter will approach the southwestern provinces of Binh Phuoc and Tay Ninh at 4:00 pm local time on Tuesday, causing rough seas and high tidal surges and dump heavy rains on central coastal provinces stretching from Quang Tri to Binh Thuan. Mountainous areas in the south central highlands, the south, and the coastal areas from Ca Mau to Kien Giang provinces have been warned of big flash floods and landsides.
By 9.00am on December 3, the provincial border guard force had contact with over 41,900 ships and boats with 258.700 fishermen operating out at sea and guided them to storm shelters.
Early the same day, Prime Minister Nguyen Tan Dung sent an emergency message to authorities of coastal provinces from the southern central province of Binh Dinh to the southern province of Ba Ria - Vung Tau, asking them to complete the evacuation of local people from dangerous areas before the typhoon slams into the region.
He emphasized in his message that residents in places of high risk should be moved to safer locations before today early morning and relevant authorities must quickly evacuate people from to-be-hit areas to higher ground, protect tourists and stand by for rescue work to deal with emergencies.