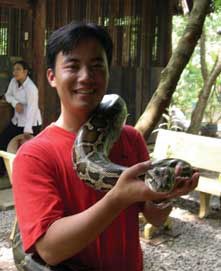 Vu Minh Tho
Twenty-seven-year-old tour guide Vu Minh Tho, who is working in Ha Noi's Intrepid Travel, has been shortlisted in the top 11 guides for the Paul Morrison Guide Award by Wanderlust, a U.K travel magazine, and readers from 112 countries and territories.
It is an annual prize nominated by tourists all over the world. Ten other nominated tourist guides are working in Peru, Nepal, India, Myanmar, Sri Lanka, Arctic and Africa. The criterion for nomination is that what the guide has been doing to make the tours impressive.
Vu Minh Tho was born in Thai Binh province in northern Viet Nam. He has been leading tours since graduating from the Tourism Faculty of Vietnam National University, Hanoi in 2003.

The award will be announced in August 2006.
Related Link:

Wanderlust Magazine