Viet Nam, Cambodia and Laos organised a ceremony to mark the free entry into their territories of commercial and non-commercial traffic from the other countries at the Hoa Lu – Trapeang Sre Border Gate in Binh Phuoc Province on Wednesday.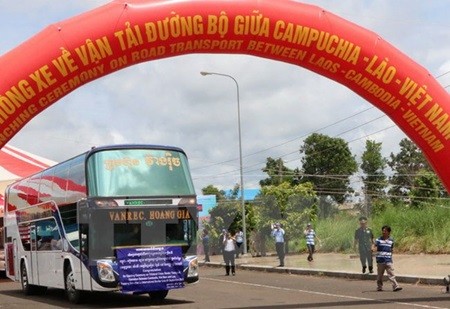 A sleeper bus passes through the pair of international border gates at Hoa Lu-Trapeang Sre in Binh Phuoc Province on Wednesday. (Photo: thanhtra.com.vn)
Commercial vehicles need to register for permission.
The three had signed a Memorandum of Understanding on road transport in January 2013 aiming to create favourable conditions for trade and tourism exchanges.
The free passage reduces cost and also helps strengthen trade relations and friendship between the three countries, Deputy Minister of Transport Le Dinh Tho said, adding it shortens the distance between HCM City and the Lao capital Vientiane. Tran Ngoc Trai, deputy chairman of Binh Phuoc Province's People's Committee, said the international route through Cambodia, Laos, and Viet Nam passing through the Hoa Lu – Trapeang Sre and Trapeang Kriel – Nong Nok Khiene Border Gates is expected to usher in a new period of socio-economic development and cultural exchanges between the countries.
It would also help Binh Phuoc speed up economic integration by acting as a pit stop during travel from HCM City to Cambodia, Laos, and other countries in the region, he added.
By linking up with National Road No 13 in Viet Nam, the route acts as an important trans-national tourism route through Viet Nam, Laos, Cambodia, and Thailand.