Vietnam has seen a 17.3% increase in the number of foreign arrivals between January and July compared to the same period last year, according to the country's National Administration of Tourism. The growth was vivid in air travel, which made up 84% of all modes of entry into the country. A great percentage of these air travelers came with a visa on arrival.
A visa-on-arrival is the legal travel document to enter a country obtained at the airport or border gate.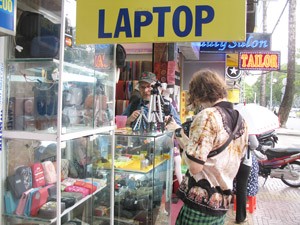 (File photo) Two foreign visitors do shopping near the Saigon Tax Trade Center in Ho Chi Minh City's District 1 (Photo: P.V.)
Vietnam is considered as one of the countries in the world that have adopted visa-on-arrival policy effectively, according to statistic figures. India, for example, boasted some 800 visas on arrival issued this July while some other countries have suspended the program.
Though official statistics has yet to reveal the exact number of approval letter issued to international tourists visiting Vietnam, an estimate based on nationality analyses can give a surprising number. At least 400 visas per day or 12,000 per month are issued at three Vietnam international airports in Hanoi, Danang and Ho Chi Minh City.
One of the agencies processing visa on arrival in Vietnam – My Vietnam Visa (www.myvietnamvisa.com) – reported that the main markets for this kind of visa remain Australia, North America, the UK and some other Western European countries such as France, Italy and Spain. Adding together, these markets make up for 90% of the visa on arrival applications.
"There are two main factors that facilitate the increase in the number of visa on arrival against the traditional one," said My Vietnam Visa sales manager Steve Tran.
"The absolute advantage of the visa on arrival itself, and the growth of the Internet spread the good words around," he added.
It is said that the fast and easy visa process has made important contributions to the increasing number of tourists in the past seven months, thus bringing more jobs and money to the locals.
Executives of agencies such as My Vietnam Visa are not only the beneficiaries of this trend, but also creators and facilitators.