Khanh Hoa Province has allowed the Viet Nam Shipbuilding Industry Group (Vinashin) to build three industrial parks, a resort and a town taking up 1,300 hectares of land around Cam Ranh Bay and Hoa Diem-Nui Dat.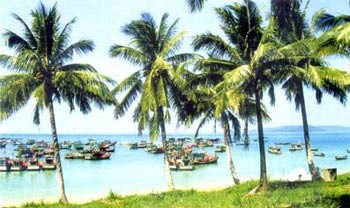 Cam Ranh bay
The industrial parks will cover 250-350 hectares of Hoa Diem hamlet, Cam Thinh Dong Ward, Cam Ranh Town; 400-450 hectares of Cam Ranh South Industrial Park; and 100 hectares of Hon Qui (Qui Island) North.
The resort will be located on Hon Qui and the town in the Cam Phu-Cam Linh area.
Vinashin has also gained Khanh Hoa's permission to take over the job of building Cam Ranh Airport from Viet Nam National Shipping Lines (Vinalines).