A reader's poll taken by the U.S. travel magazine Condé Nast Traveler and published in the January 2007 issue, has placed the Sofitel Metropole Ha Noi and the Sheraton Saigon Hotel on the magazine's "Gold List: World's Best 700 Hotels, Resorts and Cruise Lines" directory.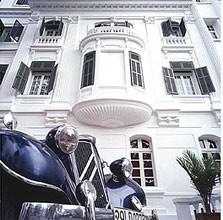 Sofitel Metropole Ha Noi Hotel
The poll evaluates hotels, resorts, cruise ships and the like on such criteria as location, architecture, rooms, activities, services, and food & beverages.

The Sofitel Metropole Ha Noi was praised for its unique architecture, harmoniously combining oriental and western styles, as well as classic and modern motifs.
"We are very proud of being listed among the best hotels in the world. We always try our best to improve the quality of our services and accommodations," said Gilles Cretallaz, Director-General of the hotel.
10 out of the 700 hotels ranked on the list were Sofitels, a distinction that can only be good for business.