The Statistic Bureau has reported that Vietnam received more than 500,000 international visitors during the first month of the year, showing a 12.6 percent increase since last December and 17.4 percent since last year.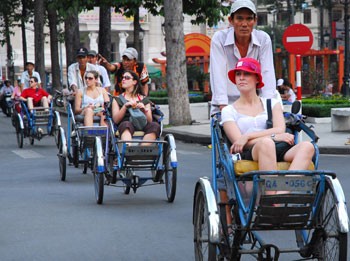 Foreign tourists enjoy Nguyen Hue Street in HCM City's downtown.
Most of the travelers were from China, Korea, U.S, Japan, Taiwan (China), Australia, Cambodia, France, Thailand and Malaysia.
The country expects to receive around 5.3 million international visitors during the course of this year.
The Ho Chi Minh City tourism sector welcomed over 300,000 foreign tourists in the first month of this year, showing an increase of 10 percent since last year. International tourist arrivals to the city are expected to exceed 3.5 million in 2011.