Minister of Transport Dinh La Thang praised Vietnam Airlines for its prominent outcomes in 2015 at a conference in Hanoi on December 30, affirming that the firm's good performance significantly contributes to the transport sector's achievements in the year.
Reports presented at the conference showed that the national flag carrier conducted over 127,500 safe flights in 2015, representing a year-on-year increase of 3.5 percent.
It transported more than 17.4 million passengers during the year, earning 69.3 trillion VND (3.08 billion USD) in revenue and 1.4 trillion VND (62.2 million USD) in pre-tax profit, 129 percent higher than the set target.
Even though it faced numerous challenges due to fluctuating foreign exchange rates and poor domestic airport infrastructure, the firm fulfilled its key objectives and created breakthroughs in reforming its fleet and improving service quality.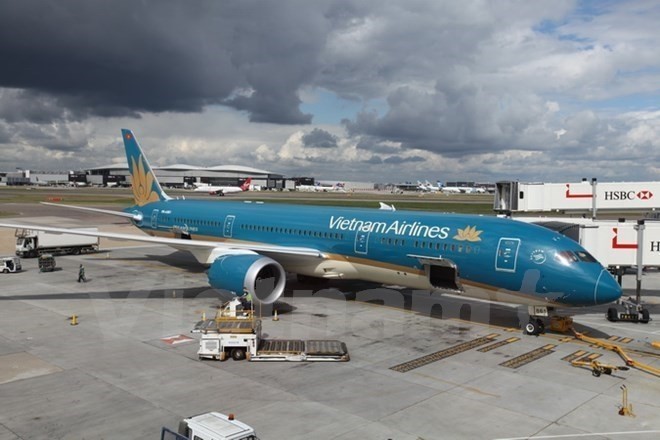 A Boeing 787-9 Dreamliner of Vietnam Airlines at Heathrow airport, London (Source :VNA)
The airline made progress in restructuring and equitisisation. After becoming a joint stock company from April 1, 2015, Vietnam Airlines worked hard to seek strategic investors. It has so far basically completed negotiations for share purchase contracts with strategic investors.
From 2012-2015, it divested all its shares in 13 fields, up three ones compared to the restructuring plan. The divested amount reached 819 billion VND (36.4 million USD), two times higher than the investment value.
In 2016, the carrier set to transport 19.2 million passengers, up 10.6 percent against 2015. It is expected to post a revenue of 77.8 trillion VND (3.4 million USD) and a pre-tax profit of over 2.3 trillion VND (102.2 million USD).
On the occasion, Vietnam Airlines officially announced the establishment of the Vietnam Airport Ground Service ( VIAGS ) Co., Ltd, which is merged by its Noi Bai, Da Nang and Tan Son Nhat International Airport Ground Service Enterprises .
The formation of VIAGS is one of the key policies in the corporation's restructuring plan approved by the Prime Minister towards improving its competitiveness and business efficiency, thus contributing to the country's socio-economic development.
The same day, the Signing Ceremony of the Tripartite Coordination Instrument between Vietnam Airlines, Vietnam Air Traffic Management Corporation (VATM) and the Airports Corporation of Vietnam (ACV) was held.