Vietnam Airlines, the country's national flag carrier recently announced an attractive promotional program offering a huge discount of upto 50 percent on some of its international and domestic routes.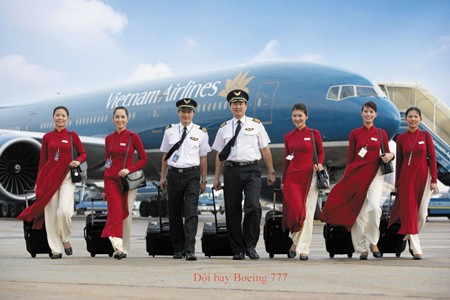 A Vietnam Airlines crew.
Accordingly, passengers can buy discounted round-trip tickets to Singapore, Malaysia, Thailand, South Korea, Japan, the United Kingdom, and Indonesia at a starting price of VND1,253,000 for a ticket, varying as per destination, and one-way tickets on 32 domestic routes at a starting price of VND400,000.
This is one of the biggest promotional campaigns organized by Vietnam Airlines, offering unlimited seats on international flights and 110,000 seats on domestic flights. The promotion will only apply on international flight tickets issued between September 12 to 19, for flights departing from September 20 to December 20; and on domestic flight tickets bought on September 1 to October 10 for flights departing from September 10 to October 10.
The national carrier is also offering frequent flyer points to its regular customers under the program 'Lotus Golden Plus'. The airlines 'Free & Easy Program' is offering a package price starting from VND2,699,000, depending on route, which includes round-trip air tickets, three-star hotel accommodation, and airport-hotel transfer in Bangkok, Kuala Lumpur, Hong Kong, and South Korea.