VietJetAir, Vietnam's first private airline, has finalised an order with Airbus Group to purchase and lease 100 aircraft with a total contract value of 9.1 billion USD.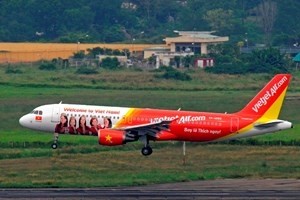 Photo: VNA
The signing ceremony took place in Singapore on February 11 on the sidelines of the ongoing Singapore Airshow 2014.
Dinh Viet Phuong, Vice President of VietJetAir, told Vietnam News Agency's Singapore-based reporter that the first aircraft will be handed over in 2014 and with this contract, the company will have more efficient planes to serve passengers.
Patrick Santone, Airbus's senior airline analyst, said that VietJetAir, a young company, have chosen the most efficient aircraft to grow the fleet in service of its strong development plant.
He expressed Airbus's pleasure to support VietJetAir which has a large market share after more than two years of operation. "We can see clearly that VietJetAir will continue to increase market share in the near future," Patrick added.
"We are pleased to finalise our first purchase agreement with VietJetAir," said Fabrice Brégier, Airbus President and CEO, adding "We look forward to working with VietJetAir as it brings ever more affordable air travel to the fast growing South East Asian market."
According to Nguyen Thanh Hung, Vice Chairman of VietJetAir, the airline transported more than 4.3 million passengers last year, accounting for about 26 percent of domestic market share. After more than two years of operation, the airline now operates a fleet of 11 leased A320s on a network covering 20 routes, including domestic destinations, Bangkok , Seoul and Kunming in China.
The carrier plans to open a direct route from Vietnam to Singapore this year and other routes to North East Asia in the time to come.