Vietjet Tours announced discounted programs for March during the high season for tourism.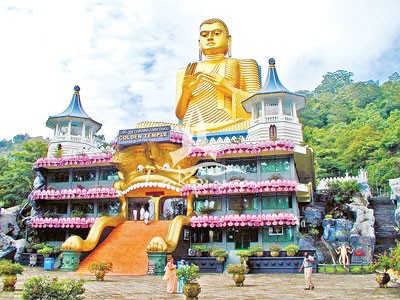 Golden Temple in Srilanka
It is a new travel company founded in 2013, said Director of Vietjet Tours Cao Pham Hang.  She previously worked at Saigon Tourism Petroleum Services Company for 20 years.
The company, located on 104 Nguyen Phi Khanh Street, District 1, Ho Chi Minh City will be offering the following promotions:
1. Srilanka: 7 days
Tourists will discover ancient relics, caves, 2,000-meter long painted walls, 150 Buddha statues, and relax on a beach known as India Pearl. Tours depart March 16 and March 30.  Price is VND 30,990,000 per person.
2. India –Nepal: 10 days
Tours depart on March 27 and April 20. Price is VND 36,990,000 per person.
3. Thailand: 5 days
Tourists will visit nine famous pagodas such as Lying Buddha, Golden Buddha, four face Buddha, Wat Arun, Yannawa Boat Pagoda, Yannawa Museum pagoda, Khao Pra Yai, Billionaire House and Khao Chee Can. Tour departs ever Friday and costs VND 7,990,000 per person.
4. France-Luxembourg –Brussels –Holland's: 9 days
Tourists will experience the Floriade Flower Festival. Tour costs VND 59,990,000 per person.
5. Holland –Brussels –France: 7 days
Price is VND 54,990,000 per person.
6. United States: 12 days
Tourists will travel throughout the country from East to West. Price is VND 87,990,000 per person.
7. South Korea:
Tourists will experience blossom festival.  Departs every Tuesday. Price is VND 22,500,000 per person.
8.Singapore: 4 days. Tour departs each Thursday, costing VND 10,990,000 per person.  This is a relaxation and shopping tour.
9.Singapore-Malaysia: 7 days. Price is VND 12,990,000 per person departing every Sunday. Female tourists will receive gifts on International Woman Day March 8. This is a relaxation and shopping tour.