Vietjet has announced that the airline will relocate international departures from Terminal One (T1) to the new Terminal (T2) at Noi Bai International Airport in Hanoi.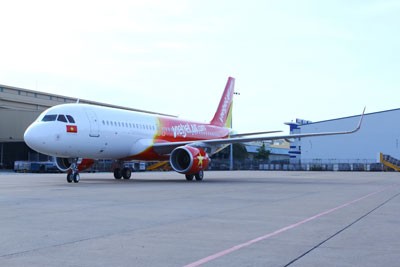 New plane of Vietjet Air carrier (Photo : Courtesy of Vietjet Air)
The relocation will begin on December 31, 2014. All international flights operated by Vietjet will relocate from T1 to T2 at Noi Bai International Airport.

Accordingly, Vietjet's flight check-in counters will relocate from Hall E in T1 and from 1 to 5 in T2. This new check in area, which will serve all of Vietjet's international flights, is designed with an ultra-modern layout and features a very visible sign system with Vietjet's trademark logo and colors.

The check-in area is also conveniently located by Vietjet's ticket counters to facilitate passengers purchasing tickets at the airport. The baggage claim area for arrivals plus the lost and found counter are set up on the first floor.
Furthermore, Vietjet's Skyboss lounge is on the third floor, where passengers flying with Skyboss can relax in an exclusive and relaxing environment.

Counters for international flights will open three hours before departure and close 50 minutes before take-off. The time for transfer between T2 and T1 is about 10 minutes by bus.

Regarding to domestic flights, passengers will continue to depart from Terminal 1 and check in at Hall E.