Viet Nam has been voted as one of the 20 best travel destinations in 2007 by readers of the upmarket travel magazine Conde Nast Traveller.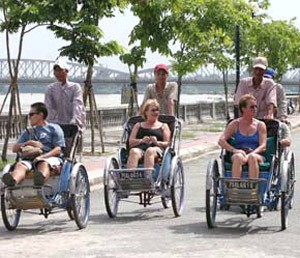 Visitors take a cyclo tour around Hue City
The annual country poll was conducted among 30,000 readers with evaluations based on 10 different categories, including abundance of culture, variety of attractions, range of accommodation, and environmental friendliness.
Viet Nam enters the list this year for the first time, ranking 18th among the top 20 selected travel destinations. India takes the first position in this year's list, compared with fourth place last year.
The other top winning countries are Italy, Thailand, Australia and New Zealand. New Zealand scores highly for scenery and Italy has the best food and climate in the world while Thailand is singled out for its friendliness.
Together with Viet Nam, Argentina, Chile, Japan and Egypt are the list's newcomers.
The annual Conde Nast Traveller Readers' Travel Awards honor the hotels, airlines, islands, four operators, spas, cruise lines, cities, as well as countries.