Travel companies estimate they have handled around 2.8 million foreign holidaymakers so far this year, 78 percent of them arriving by plane.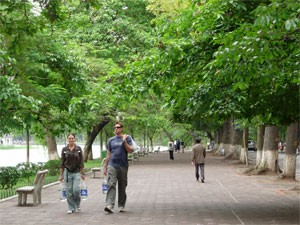 Foreign visitors walk along Sword Lake in Ha Noi (Photo: Thuy Hang)

Northeast Asians made up 33 percent of the package tourists, followed by Europeans with 16 percent and North Americans with 13 percent, according to the Viet Nam National Administration of Tourism.

Russians were the biggest spenders on luxury services during their time here, splashing out some 40 percent more than the overall average of US$800 per person.

Last year, 3.58 million foreigners visited Viet Nam and spent US$3 billion; the 30,000 or so Russians contributed US$50 million.