After polling thousands of consumers, the Travelmole International Tourism Company has listed the top ten tourist destinations for 2007. The list includes Cape Verde, Bulgaria, Brazil, Croatia, South Africa, England, China, America, Morocco and Viet Nam.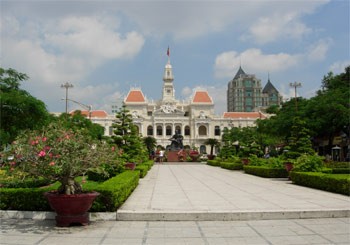 Ho Chi Minh City (Photo:KK)
"Tourism is an important industry for the economy of Viet Nam. It creates jobs for a great many people in the country and will continue to be an important source of revenue in the future", Jonathan Pincus, a senior economic expert from United Nations Development Program (UNDP) in Ha Noi, said.
More than 3.6 million foreign visitors came to Viet Nam in 2006, an increase of 4% over the previous year. In 2007, the country hopes to play host to about 4.4 million visitors. Of that total, a 16 to 18 percent growth rate is expected in the number of travelers from countries that, historically, have provided the greatest number of visitors. 

From now until the end of 2010, it is hoped that between 5.5 and 6 million international travelers will have visited Viet Nam, translating into an annual growth rate of 10-20%. Over the same period, it is further hoped that 25 million domestic tourists will travel within the country representing an annual growth rate of 15-20%. Revenue from tourism is expected to reach USD 4-5 billion by 2010, a two fold increase over 2005.

Tourism in Viet Nam, however, still has a long way to go to catch up with other East Asian countries. Compare the 3.6 million visitors to Viet Nam in 2006 with 8.3 million for Singapore, 18.7 million for Macau, 23.4 million for Hong Kong, and 13.8 million for Thailand.