Tin Nghia Company, the sponsor of the 2007 Ninh Thuan Tourism Festival, has just officially announced a tourism project at a cost of US$300 million.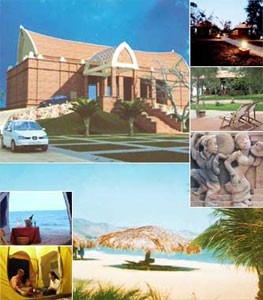 Den Gion resort in Ninh Thuan Province
Accordingly, US$284 million will be invested in a 46-hectare tourist area on Tan Van Isle in Dong Nai Province.
US$10 million will be allocated for improving the Den Gion into a four-star resort in Ninh Thuan Province. The remaining US$5 million will go to the Tuyen Lam Lake Tourist Zone in Da Lat City, Lam Dong Province.
"Tourism is one of the key businesses of the Tin Nghia Company. It is giving shape to a 'tourism triangle' linking Ninh Thuan with Da Lat and Dong Nai," said Ms. Nguyen Thi Bach Huong, deputy director-general of the Tin Nghia Company.
These projects receive great attention from local and foreign investors, especially financial investors and world leaders such as Victoria Hotel & Resort, Indochina Capital, Vinacapital and others.