United Airlines is providing promotional summer fares for flights between Vietnam and the US, as well as to Hong Kong.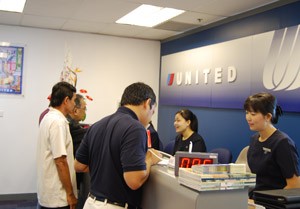 Passengers at the United Airlines booking office in Ho Chi Minh City
The discounted fares for Los Angeles and San Francisco start at US$770, with travel until June 14.
The American carrier is selling a round trip between Ho Chi Minh City and Hong Kong starting at US$138, with travel from April 1 till June 10 this year.
The summer promotion is applied for max stay of four days, and the booking class is L.
United's regular fares for a round trip between HCM City and Hong Kong are also available, starting at US$188.
The airline operates daily direct flights between Vietnam and the US via Hong Kong. The service was launched in December 2004, making United the first American carrier to fly to Vietnam since 1975.
In related news, Northwest Airlines, a wholly subsidiary of American carrier Delta Air Lines, will discontinue flights to HCM City via Tokyo, effective from March 27, 2010.
Delta became the second US airline to fly to HCM City in June 2009, five years after United. Once Delta stops its service, United will be again the only American carrier flying to Vietnam.
Till the end of 2009, United had transported more than 700,000 passengers in the route. The carrier said it had recorded average yearly growth of 20% in passenger traffic to Vietnam over the past five years.