The Ho Chi Minh City Department of Culture, Sports and Tourism has coordinated with the Vietnam Aviation Corporation, the Vietnam National Trade Fair and Advertising Company (Vinexad) to promote tourism in Vietnam on TVB Channel (Hong Kong-China).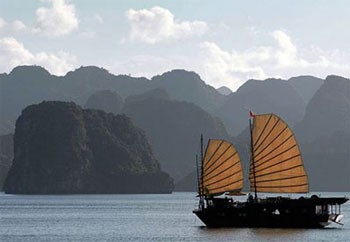 Ha Long Bay
The program will show the beautiful landscapes, hot tourist spots and the cuisine and culture of Vietnam to the world. The show will broadcast on "Admiral's Feast of TVB" in 2011.

The TVB film crew will visit Ho Chi Minh City, Vung Tau, Nha Trang, Da Nang, Hoi An, Hue, Hanoi and Ha Long Bay during their trip to Vietnam from February 19 to March 12.

As Hong Kong's leading channel, TVB has been broadcasting since 1967 to around 30 million viewers in the Asia-Pacific region and in North America and Europe.