Travel agents in Vietnam are making a concerted effort to market domestic tourism, offering huge discounts and promotional programmes since the beginning of the year.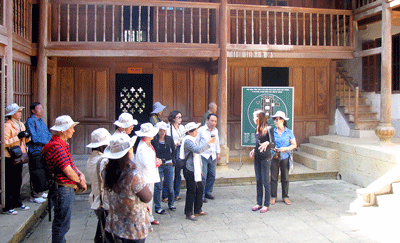 Foreign travellers on a sightseeing visit to an ancient house in the northern province of Ha Giang (Photo: SGGP)
Several travel agents are offering huge slash in prices on local tours. For instance, Saigon Tourist launched IKO travel company to organise domestic tours from now till May, offering discounts of over 13 per cent for road tours to Nha Trang-Hon Mun; Nha Trang-Suoi Hoa Lan; and the southern highland city of Da Lat. For air tours to the beautiful islands and undisturbed beaches such as Phu Quoc; Hanoi-Trang An-Ha Long; and Hanoi-Ha Long-Sapa, the discount is as much as 30 per cent.
Similarly, Ben Thanh Tourist has also slashed as much as VND2.7 million (US$150) on a home tour. While, in addition to discounts, Fidi Tours has launched a promotional programme "Buy One Get Three", offering prizes worth over VND1 billion with gifts such as a Vespa scooter, Ipad 2 and I phone 4.
Although travel agents are trying to encourage people to take   domestic trips, they realise that an increasing number of people are now opting to visit the neighbouring countries like Thailand, Cambodia, Malaysia and Singapore.
Doan Thi Thanh Tra, Head of Marketing Division of Saigon Tourist, said that more and more people are registering for tours to Asian countries, Europe and the US, seemingly unaffected by the economic crisis.
During the first two months of 2012, over 2,000 people purchased tours for Thailand through Saigon Tourist, 10 per cent more than the same period last year; over 5,500 through Viet Travel, 15 per cent more than the same period last year.
Moreover, tours to Malaysia increased by 100 per cent and Malaysia- Singapore by 40 per cent, Korea and the US by 300 per cent, and Australia by 87 per cent.
The tourism sector needs to seriously seek reasons as to why people prefer foreign trips and do something more to improve domestic tours, so as to keep the domestic tourism industry from facing a downturn, which will consequently affect thousands of local people.