Although the price for one night in a five-star hotel room has nearly doubled from VND800 thousand (US$50) to VND1.4 million (US$90) in the last two years, travel agencies still scramble to find vacant rooms in bigger urban centers.
Reservations for three and five-star hotel rooms range from 78 to 100 percent of capacity during the peak season.
Truong Vinh Tho, Head of Hotel Management Board of HCMC Department of Tourism, is worried that tourists may elect to visit countries other than Viet Nam because Vietnamese travel agencies often suggest they stay in lower class hotels when higher quality rooms are unavailable.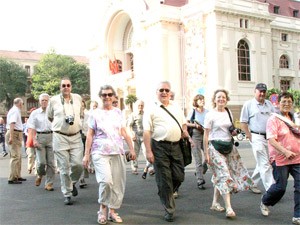 Foreign tourists come to Ho Chi Minh City more and more but no many available hotels for them
According to statistics generated by the Ha Noi Department of Tourism, in 2000, Ha Noi hosted 2.6 million tourists, of whom 500 thousand were foreigners.
By 2006, that figure had risen to 6 million, with 1.1 million foreigners.
Despite these figures only three-star and mini-hotels were built during this period.
These figures illustrate that Ha Noi will be unable to handle any further increases in tourism levels since there are only 28 three or five star hotels in the city with a total of 4,223 rooms.
Based on the statistics cited above, it is estimated that more than 10,500 rooms would be needed to meet future demands.
In the last two years, investors have poured money into the tourism sector. Total investment has reached upwards of US$2.2 billion, 90 percent of which is earmarked for the development of hotels, resorts, recreation centers and deluxe tour services.
However, almost all the development is taking place in coastal regions rather than Ha Noi or Ho Chi Minh City. The reason for this is twofold: Firstly, it is difficult to find appropriate real estate in the larger urban centers for these types of projects since in many areas the government often sets building height and width limits that prove to be unacceptable to developers.
Secondly, government approval often takes too long. For instance, Saigontourist waited two years for the approval of four major hotels (Rex, Continental, Kim Do, and Grand Majestic) and an International Exhibition and Convention Center in HCMC.
Correspondingly, construction has been slow to get under way the number of international tourists visiting the country increases by 0-15 percent annually.
In response to the situation, the Ha Noi People's Committee is planning to set aside some plots of land for hotel development as well as subsidize the building of infrastructure and offer investors tax incentives.
A point to take note of is that Thailand, which hosts an average of 13 million tourists every year, has maintained its hotel room prices for three years.
Tours cost just US$20-30 per person, per day and include meals, transportation and event fees.
Contrast that with VND400 thousand a night for a three-star hotel room in Ho Chi Minh or Ha Noi and it's easy to see that Viet Nam's tourist industry is going to suffer.