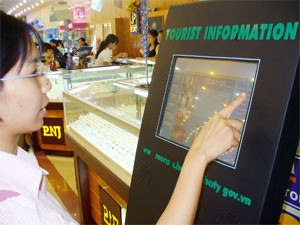 A computer terminals at Tax Center, Ho Chi Minh City, receives a lot of tourists' interest.(Photo:TK)
A proposal for installing computer terminals at public sites in Ha Noi to effectively provide international visitors with tourism information was recently submitted to the Ha Noi's People's Committee by the municipal Tourism Department.
This is part of the infrastructural investment project for the coming Asia Pacific Economic Cooperation (APEC) Summit, which will be hosted in the capital city of Viet Nam in November, 2006.
As planned, about 250 computers in 1m x 2m booths will be installed in various public sites such as hotels, bus and railway stations and exhibition centers in Ha Noi.
With a user-friendly interface, clear and easy display, the new model of information reference is expected to draw much curiosity for international tourists and effectively provide them the required information.
The systems' software is built in two languages, Vietnamese and English.
According to the Department, developed countries around the world have such terminals installed in public places to provide information to tourists, such as routes to nearby sites of interest and relevant local history.
Currently, the Department is collecting public opinions, particularly concerning locations and security measures for the hardware protection.
Dat Viet Advertising Company will be the main sponsor of the installation, which is expected to cost about US$10,000.
Related links: