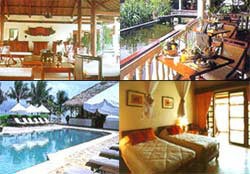 Ana Mandara resort, photo : SGGP
Sofitel Metropole Ha Noi, Ana Mandara-Spa Nha Trang and Hoi An Riverside resort are on "The Gold List 2006". They were chosen by two travel magazines, Conde Nast Traveller from London (UK) and Travel + Leisure from USA.
The annual selection "The best hotels in the world" by these two magazines is based on more than 200,000 readers' opinions for the secection of 500 favourite tourist places around the world.
Hotels, resorts, cruisers… are approved on such criteria as architecture, rooms, activities, services, and food & beverages.