Thousands of visitors streamed into amusement parks in Ho Chi Minh City and various tourists sites in the Mekong Delta on April 30, to enjoy the five-day long Reunification and Labor Day holidays.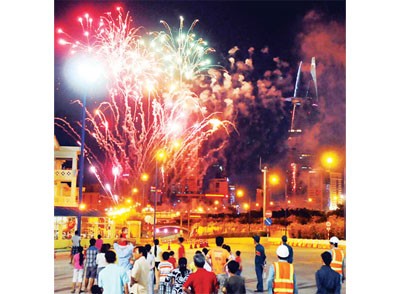 Ho Chi Minh City residents view a fireworks display on April 30 (Photo: SGGP)
In Ho Chi Minh City, thousands of residents from the City and also neighboring provinces flocked to Suoi Tien and Dam Sen amusement parks and Saigon Zoo and Botanical Gardens to enjoy the consecutive holidays with their families.
Passengers jostled on buses to and from Mien Dong, An Suong and Mien Tay Bus Stations as they tried to make their way to various amusement parks and entertainment areas across the City.
Le Hai Phong, director of the Public Transport Management Center in HCMC, said the number of passengers to amusement areas increased by 30 percent above normal.
 
People formed long queues to buy entrance tickets at Suoi Tien, Dam Sen and Saigon Zoo, causing traffic jams on surrounding roads like Hanoi Highway, Hoa Binh, Nguyen Binh Khiem and Nguyen Thi Minh Khai.
Parking lots in Suoi Tien and Dam Sen parks were full beyond capacity, forcing motorcyclists to move to adjacnt private parking lots where charges were much higher. The scorching weather caused holidaymakers to favor water parks at tourist sites.
The five day long holiday also sent a lot of visitors to Can Tho City and other provinces like Vinh Long and Bac Lieu in the Mekong Delta.
My Khanh Eco-Tourism Village, the largest tourist site in Can Tho City, attracted more than 8,000 visitors over the last two days, an increase of more than 20 percent from the same period last year.
Le Van Sang, director of eco-tourism village, said they have mobilized more than 30 boats to pick up passengers from Ninh Kieu Wharf to the village and back.
Vinh Long Province also attracted a lot of visitors to tourist destinations in Long Binh Island along Tien River, which has an entwined canal system and diverse fruit orchards.
According to the Department of Culture, Sports and Tourism in Bac Lieu Province, Bac Lieu City has received thousands of visitors to the Bodhisattva Kuan Yin Altar tourist site. This year, the Reunification and Labor Day holidays are at the same time with the Kuan Yin Festival, which is organized annually from 20-24th day in the third lunar month.
Tram Chim National Park in Tam Nong District of Dong Thap Province saw more than 80 groups of foreign and domestic visitors from April 26-30. The Park management board has increased the number of boats to 12 but still needs to run more to meet the huge demand.