This Lunar New Year, Suoi Tien (the Fairy Stream) Theme Park receives a huge number of visitors from Ho Chi Minh City and other provinces. Visitors come here to discover a fairy land, where they can be relaxed and entertained.
According to Feng Shui, Suoi Tien is the land of four noble animals (Dragon, Unicorn, Tortoise, Phoenix), which would bring safety, happiness and good luck to people.

It is the reason why people around the city and neighboring provinces flock to the park every Lunar New Year.

Crocodile Kingdom

Crocodile fishing
It is a very attractive area for visitors, especially for children in this Lunar New Year. There are over seven thousand crocodiles at the age of one to seven. A crocodile can weigh from fifteen to seventy kilos, depending on its age. These are special fresh-water crocodile species of Viet Nam, which are listed as the endangered ones in the Red Book, but have been successfully bred in Suoi Tien Theme Park.

Children like to watch crocodiles sleeping or lying under the sunlight from a safe distance, when the crocodiles seem not to be as fierce as they are. Many visitors are so excited with a heart-pounding game – crocodile fishing!

Fruit Festival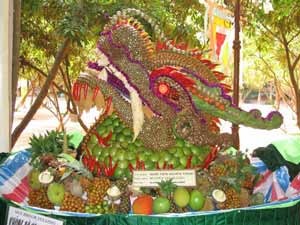 A dragon-shaped fruit dish
It is a southern traditional festival, where travelers can not only enjoy traditional fruits, but also explore the cultural characteristics of the region.

Coming to the Fruit Festival, travelers have chance to discover the art of form-making with fruits performed by craftsmen from the North to the South.

It is also a good chance to buy fresh fruits at a fruit market at cheap prices. Visitors are excited with a rare, strange and large fruit collection.

Every year, Suoi Tien Park organizes a fruit designing contest. Each candidate has to build a statue or any shape with such fruits as coconut, durian, chili, pineapple, apple or lemon.

Assemblage of dragons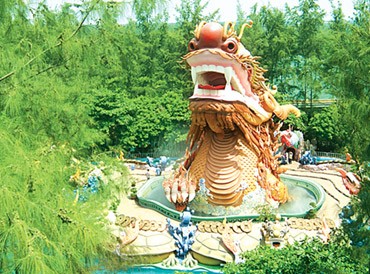 Dragon head
Built in 2003 with the total cost of VND7 billion, the works imitate four super natural powerful animals, including dragon, unicorn, turtle and phoenix.

In this attractive area, there is a turtle-dragon island with a giant dragon head of 300 tons in weight and 25 meters in height and five statues of turtle god. The island is surrounded by a quiet river. Visitors can enjoy the view of the island on boats. Coming to this attractive area, visitors believe they will receive much luck, happiness and wealth.

Once tourists come to Suoi Tien Theme Park, they will be eager to learn more about the legendary stories of Viet Nam.