The peak tourist season in coastal provinces of South Central Vietnam including Binh Thuan, Khanh Hoa and Ninh Thuan falling from November to April received a large number of international travelers especially a large number of Russian visitors.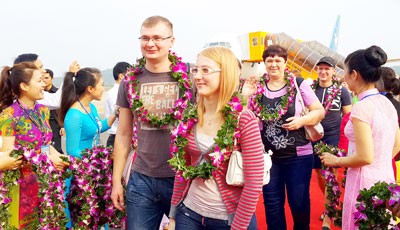 Russian tourists visit Phan Thiet's Mui Ne(Photo:SGGP)
The province welcomed 291,000 foreign tourists, including 80,000 Russian vacationing toursists in the first 10 months of 2013, according to the Department of Culture, Sports and Tourism of Binh Thuan Province.
Anh Duong Travel Company will bring about 150,000 Russian visitors to Vietnam since last November to this year's April, said Hoang Thi Phong Thu, company chairwoman.
Turkey's Pegas Touristik Company, recently opened two years ago, received highest ranking from Russian visitors to Binh Thuan.
Phan Thiet – Mui Ne beach in Binh Thuan Province has also become a popular destination for tourists, especialy Russians.
Despite the lack of airports and seaports, the number of tourists from Russia and Russian-speaking countries to Binh Thuan province has still increased steadily since 2006. The average spending is up to VND2 million per person everyday.
Binh Thuan has continued to invest and upgrade its transportation infrastructure, raise the quality of services, diversify tourism products, ensure environmental sanitation, focus on training staff on the Russian language, and making the province a safe and friendly destination.
The costal city of Nha Trang in Khanh Hoa Province is also a favourite destination in the country. Nha Trang Bay has been acknowledged as one of the most beautiful bays of the world.
The province received 80,000 Russian visitors in 2012 and 150,000 in 2013. It is easy for Russian tourists to arrive that the coastal city because of its seaport, direct flights.
The province plans to spend more than VND6.3 billion to train staff on the Russian language starting now until 2015.
Wild beaches in Ninh Thuan Province have become an attractive destination for Russian travelers who want to enjoy sun and quiet, white, sandy beaches.
Ninh Thuan experienced 72,300 Russian visitors since the beginning of 2014. The area is estimated to draw more 30,000 Russian during the peak tourist season. Visitors often stay for about 14 days.