Sofitel Metropole Ha Noi has been voted as 2007's best hotel for businessmen in the capital city by readers of the Business Traveler Asia Pacific, a leading travel magazine.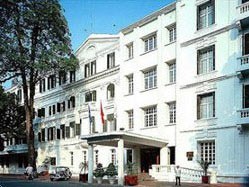 Sofitel Metropole Ha Noi Hotel
The criteria for the annual vote include atmosphere, amenities, technology, and the quality of service and food.
The award was presented to Giles Cretallaz, the director general of the hotel, at a recent ceremony held in Hong Kong.
"This is the seventh consecutive year that the hotel won the title. We are currently completing a hotel-wide improvement project aimed at preserving the building's charming architecture while upgrading equipment to the international standard. We believe that Sofitel Metropole Ha Noi will continue to be an ideal place for businessmen," said the director general of the hotel.
The hotel has received numerous other accolades in the past. The Sofitel Metropole was chosen as one of the 500 best hotels in the world by readers of Travel & Leisure and Condé Nast Travel; selected as the best hotel in Ha Noi by Hong Kong's Destin Asian, Asia Money magazine, and Viet Nam's VnEconomy; and received an award from the Viet Nam Tourism Association.