The Sofitel Legend Metropole Hanoi won the Pacific-Asia Travel Association's (PATA) 2010 gold award in the Heritage category on August 24. The award ceremony will take place on September 17 in Macau.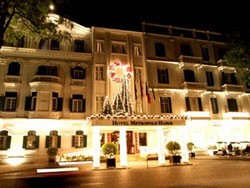 Sofitel Legend Metropole Hanoi
The award honors the hotel for its effort in refurbishing, preserving and developing one of Southeast Asia's most treasured properties, and turning the legendary Metropole Hanoi into the Sofitel groups leading hotel.
The 100- year old hotel spent over US$20 million in renovations, over the past four years (2004-2009). However, it still retains the original 1901 architecture.

The Sofitel Legend Metropole Hanoi's themed suites indulge its connections to legendary people like Charlie Chaplin, Somerset Maugham and Graham Greene who stayed at the hotel.

In May, Sofitel Metropole of Ha Noi has made the Condé Nast Traveler Hot List 2010, the publication's annual list of the "66 coolest new hotels in the world" .

The hotel has received numerous other accolades in the past. The Sofitel Metropole was chosen as one of the 500 best hotels in the world by readers of Travel & Leisure and Condé Nast Travel; selected as the best hotel in Ha Noi by Hong Kong's Destin Asian, Asia Money magazine, and Viet Nam's VnEconomy; and received an award from the Viet Nam Tourism Association.

Sofitel Metropole Ha Noi was also named 2007's best hotel for businessmen in a capital city, by readers of the Business Traveler Asia Pacific, a leading travel magazine.