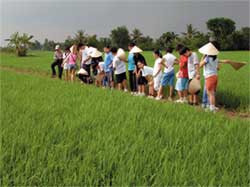 The students were learning how to do field work
A group of twenty-three students and two teachers of the International Singapore Korean School made a field-trip to Viet Nam on July 17-20. They took part in the "Practical Lessons of Viet Nam" program organized by Fiditourist.

The students took a sightseeing tour of Ho Chi Minh City, visiting the Notre Dame Cathedral, Municipal Opera House, China Town, etc. They also made an inspection visit to Can Gio mangrove forest in the outskirts of the city and a trip to south-western Viet Nam.

During the 4-day learning tour, the students had opportunities to discover Viet Nam and were able to learn much about its culture through watching the water puppet performance, doing field-work, bee-feeding and coconut-candy making.