Boat tours from Ho Chi Minh City to Siem Reap in Cambodia are now available from Saigontourist thanks to its newfound partnership with Compagnie Fluviale de Mekong.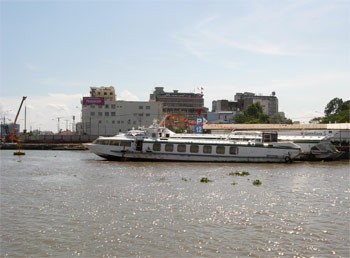 Saigontourist and Compagnie Fluviale de Mekong will offer two trips a week. (Photo:KK)
The HCMC-based travel company has booked places on 38 tours along the lower Mekong from the middle of September to next April. The first one left Siem Reap on September 13.

They use the 22-seat RV Toum Teav and the 44-seat RV Lan Diep, both of them well-equipped vessels with restaurants, bars, sundecks and toilets, and both designed for navigating small waterways. They sail through the maze of interlacing canals, channels and rivers that make up the Mekong Delta.

The first trip, on the RV Toum Teav, started from Siem Reap on September 13 and passed through Vinh Xuong on the border before travelling along the Hau, Tien and Saigon rivers to Ho Chi Minh City, stopping at Chau Doc, Sa Dec, Vinh Long and My Tho along the way.

Mr. Le Quang Thang from Saigontourist's cruise department says most of the passengers come from Europe, in particular France and Germany. He reckons a river cruise is the ideal way to observe the locals and their culture up close.