Saigon Railways began online sale of Tet tickets at 8am Tuesday on their website www.vetau.com.vn, well in time for the coming Lunar New Year.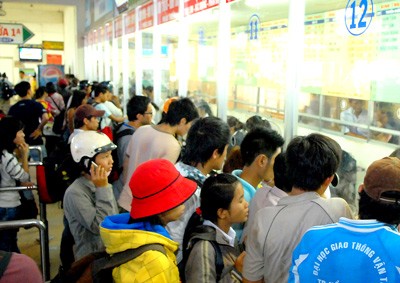 Bus and train stations crowd with passengers wanting to purchase tickets for the Tet holiday season each year (Photo: SGGP)
Passengers can now book train tickets online by downloading and filling up a form with details of full name, address and personal identity numbers. One person can buy a maximum of eight return tickets only.
Separate calendar dates have been specified for sale of Tet tickets to different destinations to prevent network congestion.
For instance, online tickets for Dong Ha City in Quang Tri Province from Hanoi will be available from November 15-20 on the website.
For stations between Hue and Ho Chi Minh City tickets will be available from November 22-27.
Tickets for the Saigon-Hanoi route will be sold from December 1-10. After December 10, people can directly purchase tickets at railway stations.
Payments must be made within 72 hours via ATM or branches of the Vietnam Joint Stock Commercial Bank for Industry and Trade. They can also be made direct at railway stations or agency offices.
Passengers must present booking codes, receipt of payment and identity papers to receive tickets at the Saigon Railway Station two hours before departure time. They can also collect their tickets 24 hours after payment has been made in a bank.
Passengers wanting to return tickets bought for January 8-21 must do so 24 hours (not 10 hours) ahead of departure time and receive a refund after a 30 percent deduction.
Ticket prices will increase by 10 percent from January 8 to February 13, and by 19-39 percent during peak Tet holiday season.
Higher ticket rates will apply from January 14 to January 21, 2012 before the Tet holidays and January 26 to February 3, 2012 after the Tet holiday season ends.
Related article:
Saigon Railways to open online sale of Tet tickets