"Many tourists are upset about the rumors of increasing Hoi An's entrance tickets. We still are selling entrance ticket of VND 80,000 per domestic tourist and VND 120,000 per international tourist. With this ticket, tourist can visit ancient town and other sights," said Mr Vo Phung, director of the Center of Culture & Sport of Hoi An City.
This price has been around since 2012. Previously, we sold mostly entrance tickets for tourist agencies and tourists don't have to pay any extra fees when they visit Hoi An because tourist agencies added this fee into tour price in pax, said Phung.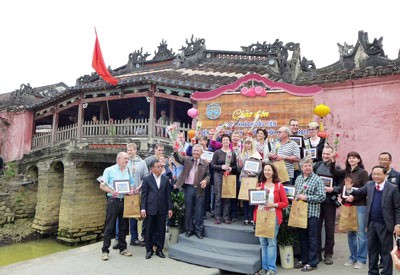 International tourists always select Hoi An as their destination in Vietnam (Photo: SGGP)
It means tourists traveling with travel agencies pay the entrance ticket, and single tourists would buy voluntary entrance ticket.
"That is our mistake, therefore recent days, we have decided to sell entrance ticket to all domestic and international tourists with above prices. Because we want to tighten the ticket selling to increase income source for restoration to ancient areas," said Phung.
Tourists who stay in Hoi An for 10 days or a month will only buy a multiple entry ticket. 70 percent of the entrance fees are allocated to study and to restore the ancient sites.
Many local and international tourists realize that all ancient houses need to be restored by local authority budget.
Ancient houses are a Hoi An relic area therefore last many years, we took money from selling visit ticket for restoration and renovation, said Mr Nguyen Su, chief party of Hoi An City.
We don't popularize to tourists about the tightening management, therefore they feel surprises when our ticket inspectors require them to show their ticket many times, Mr Su added.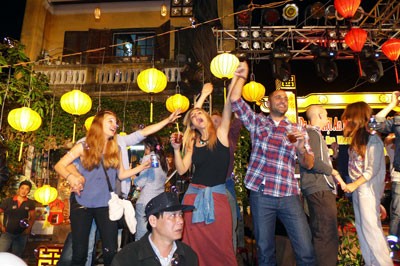 As many as 2million international tourists flock to Hoi An every year (Photo: SGGP)
Hoi An people and even tourists will not travel around the city after 11 p.m., local people sleep very soon and tourists often stay longer than in club or restaurants.
Since 1999 up now, international organizations have supported Hoi An for study & restoration of VND 4 billion. UNESCO only supports the town in technology & studied management.
We must maintain selling entrance tickets for local profit, said Mr Su. He doesn't believe that the prices have averted tourists and hopes that they will agree with the regulation.
From 2000 to now, the city got VND 255 billion from selling entrance tickets. VND 160 billion sent to government budget while VND 104 billion was supported to restore ancient houses and cultural tourism & researching activities spent over VND 40billion.
As many as over 10 ancient houses in ancient areas need renovation, each house need about VND 1 billion and we are trying helping local people stabilize incomes.