Swiss hotelier Mövenpick on Thursday celebrated the grand opening of its Mövenpick Saigon, the nearest-to-the-airport five-star hotel, following a US$15 million renovation that included all rooms, public space, restaurants and retail outlets.
"Ho Chi Minh City is the second fastest growing city in the developing world, and that means business men and women are arriving here in droves, pretty much 24/7," said Knuth Kiefer, General Manager Vietnam for Mövenpick Hotels & Resorts.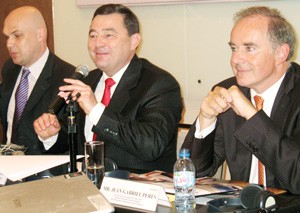 Andreas Mattmüller (C), Mövenpick Hotels & Resorts chief operating officer, Middle East and Asia, speaks at Thursday's press conference for the Mövenpick Hotel Saigon grand opening, while the group's President and CEO Jean Gabriel Peres (R) and Knuth Kiefer look on (Photo: Tuong Thuy)
Kiefer added,"The Mövenpick Hotel Saigon isn't merely positioned at the heart of all this change, all this progress, all this energy. We are part of it.
"With these upgrades, we have kept pace in terms of amenity and technology while providing business and leisure travelers a respite from city life that is at once hip, serene and accommodating."
He added, "Our guest rooms were designed to incorporate modern touches with ultimate comfort and conveniences for our guests."
Mövenpick Hotels & Resorts President and CEO Jean Gabriel Peres also took part in the grand opening ceremony.
The Mövenpick Saigon is located on Nguyen Van Troi Street in Phu Nhuan District, within 10 minutes from Ho Chi Minh City's Tan Son Nhat International Airport.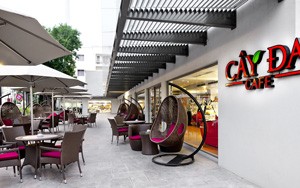 Cay Da Café at the Mövenpick Saigon
The renovation started in March this year, adding 27 new rooms and bringing the total to 278.
Kiefer presided over the 2008 renovation of Mövenpick's sister property, the Mövenpick Hotel Hanoi, in the Vietnamese capital.
Andreas Mattmüller, Mövenpick Hotels & Resorts chief operating officer in the Middle East and Asia, said at a press conference for the grand opening that his group was eyeing Nha Trang, Da Lat, Hue, Da Nang and Hoi An to expand its presence in the country.
Completely closed on March 8 this year, the Mövenpick Saigon used the time to add key personnel and for staff education, with core training in hospitality essentials. The soft opening was on August 1.
Kiefer said, "In the five months leading up to the opening of the hotel, we have organized over 160 training classes for our employees in order to meet the expectations of our customers and to be in line with the modern new look of the hotel."
The Mövenpick hotels here in Vietnam [in Hanoi and Ho Chi Minh City each] want to be known for the most attentive and personalized approach towards our customers and to provide true value for our guests," he added.