Madagui offers you not only nature at its purest and a cool forest surrounding, but also a journey to exhilarating adventures.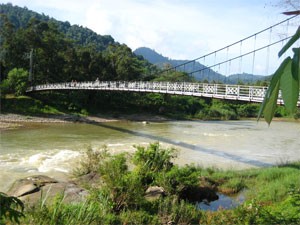 The chain – bridge that hangs over Đạ Huoai River
Madagui Forest Resort is located on Highway 20, at a distance of only 152 kilometers from Ho Chi Minh City. With the area of about 1.200 hectares, Madagui is situated in a fresh cool climate between the mountains with beautiful natural landscapes, and surrounded by an uninterrupted system of streams and caves.

Madagui Forest Resort is a part of the Nam Cát Tiên national park. It is a place where tourist can also have picnic or camping and discover the wild.

The outstanding points of Madagui are the primeval forest with many kinds of animal and plant and a mysterious system of cave.

Coming to Madagui, tourists would be impressed by many beautiful landscapes such as the huge rocks lay besides the immeasurably high trees at Thạch Lâm Lake or some artworks on rocks at Thiên Phúc Cavern. A collection of nearly 50 sorts of bamboo and the plenty of about 100 fruit – trees with a gathering of over 50 sorts of banana will definitely keep tourists from leaving.

From 2006 to 2008, Madagui has marked the improvement with many new interesting things.
Camellia Flava restaurant is designed as the communal house in the Vietnamese highland. This restaurant can serve about 400 customers. A large-scale system of villas, which are named after some kinds of fruit, would offer tourist comfort and convenience.

Not only that, there are some services that attain the international standard like pools, tennis yard, billiard room…Among them, the pool is really an unique work. It is designed with three strata of fall in the middle of mountain and forest.

Madagui Forest Resort also satisfies other demand for tourist with many different services like the circus, cock – fighting, discovering caves, swimming, gongs performing, horse riding, fishing, shooting, riding bicycle, karaoke, steambath and massage.

Lately, Madagui has brought to tourist a new program, Madagui Feeling. This is like a kind of adventuring game, and people who join it will discover the Thần Núi Park, pass through the chain – bridge that hangs over Đạ Huoai River and then go into the Ắc Ó Maze.
The journey of finding the Madagui Feeling begins from Thiên Phúc Cavern, through the bamboo collection to the Death Cave with the depth of 15 meters. After that, the players will walk through the Forest of Tropical Rain and ride on the strong horses. Finally, the imposing scene of mountain, forest, stream and rock would bring the winners a wonderful and cheerful feeling.
Return from the journey, tourist would have a chance to enjoy some specialties that only have in Madagui forest. Especially, the Madagui Baking Corner will definitely attract any customers with delicious dishes.
All those features have brought to Madagui Forest Resort a special attraction that whoever comes to it will be able to dispel all stress or tiredness and enjoy a wonderful time.