The 15 millionth international visitor is James Kopenec from the United States. The 14,999,999 and the 15,000,001 visitors are Annita De Vriesere from Belgium and Masahiko Nagaishi from Japan.
The three tourists made a cruise on the Celebrity Millennium that docked at Ha Long International Passenger Port on the same day.
The tourists on the vessel plan to visit destinations in Quang Ninh and Hanoi. The ship is scheduled to leave Ha Long on December 20.
Minister of the Culture, Sports and Tourism Nguyen Ngoc Thien said the event lays the basis for the tourism sector to strive to become a key economic industry.
In the first ten months of this year, Quang Ninh province received more than 10.7 million visitors, up 25 percent compared to last year.
From the beginning of this year until now, Saigon Tourist Travel Company has welcomed 325,000 passengers and crew members arriving on international cruise ships.
Christmas & New Year tours have been sold out with the noteworthy growth number of visitors, said travel companies.
Short day trips from HCMC to Vung Tau and Mekong Delta region have attracted many holiday makers. The number of Vietnamese travelers to South Korea has also grown sharply due to the victory of the Vietnamese football team and its South Korean coach Park Hang Seo.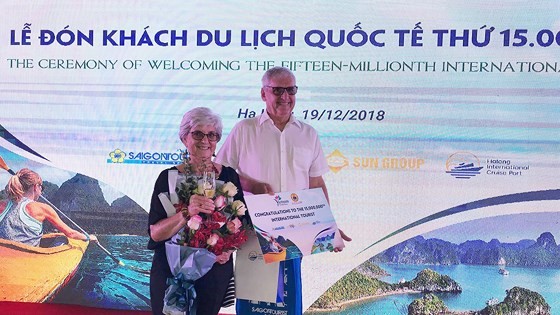 The 15 millionth international visitor, James Kopenec and his wife