Hai Ha district in the northern province of Quang Ninh has recently announced a plan to develop tourism in its Cai Chien island commune, which has beautiful beaches and primeval forests.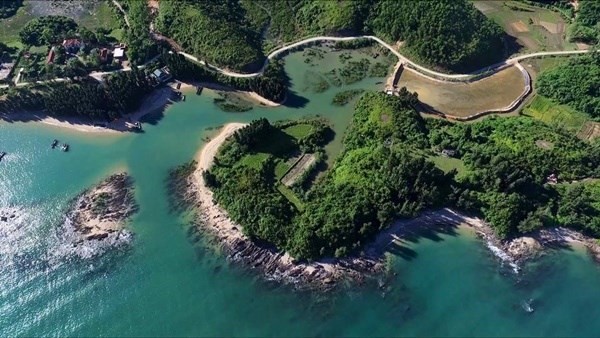 An overview of Cai Chien island (Photo: vietnamnet.vn)
Cai Chien island covers 2,500 hectares and is surrounded by a number of smaller islands. It boasts 2 km of white sand beaches and forests of straight Australian pie trees that can be seen almost everywhere on the island.
The three most beautiful local beaches are Cai Chien, Vung Bau and Dau Rong. Near the Dau Rong beach is a walking road spanning over 1 km along the beach.
The island is also home to 500ha of primeval forest that is particularly suitable for the development of adventure tourism.
According to statistics of the Hai Ha People's Committee, the island has welcomed some 21,000 visitors as of November. It expects to serve up to 70,000 tourists next year, mostly during summer.
These figures remain low compared to the island's tourism potentials, which is partly attributable to underdeveloped tourism infrastructure in Cai Chien.
In a bid to tap these potential and draw investors' interest, Hai Ha district announced its plan to develop the central area of Cai Chien with details on the zoning of areas for different purposes.
Accordingly, the planning area will span over 180 hectares with a target population of 3,000 in 2020, increasing to some 3,700 ten years later.
It will consist of four main subdivisions. The centre area is earmarked for administrative buildings as well as cultural and convention centres. The area in the north will be used for public space, such as squares and parks, while the western subdivision will host hotels, resorts and restaurants. The eastern part is for farm houses serving homestay tourism.
The plan also included the building of transport, power and telecommunications infrastructure as well as water supply and sewage systems.
In addition to the plan, the local authorities have been implementing a number of measures to upgrade beaches, clean the environment, build cement roads and placing road signs, but still maintaining the intact beauty of the island.