People have always identified Quang Ngai Province with the infamous 'My Lai Massacre' at the Son My site and unfortunately to date Quang Ngai Province does not exist on any tourist route or itinerary.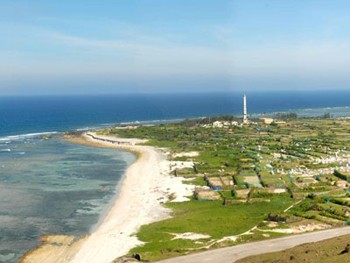 Ly Son Island in Quang Ngai Province
People commuting by train know Quang Ngai Province for its duong phen (rock sugar), duong phoi (lung-shaped sugar), malt and Guong (candy). Recently it has become known for the Dang Thuy Tram relic site as well.
Tourists can visit Quang Ngai Province more comfortably by plane from Ho Chi Minh City. The nearest airport is Chu Lai Airport in Nui Thanh District of neighboring Quang Nam Province. They can then enjoy a stay at a resort or tourist complex located at the border of Quang Ngai and Quang Nam provinces.
There are well equipped complexes' like the Chu Lai resort, Phi Truong resort and the Thien Dang tourist site for short or long term stay. Resorts and complexes stretch along 12 km of pristine beaches, connecting Chu Lai beach in Nui Thanh with Khe Hai beach in Binh Son District of Quang Ngai Province.
Chu Lai resort is very spacious with laterite walls and secluded private rooms, with the smallest measuring 32 square meters. The Thien Dang tourist site is a charming haven with poplar trees and rows of four to five room clusters overlooking the sea. Made of stone and wood, it has its own unique style.
Besides its stunning beach, the complex comprises of a museum with over 10,000 objects from a collection of cannons which includes the gun used by Nguyen Hue to fight against 200,000 invaders from China of the Thanh Dynasty, in the spring of 1789.
Visitors can view many collections of ancient coins, antique watches, Dong Nai terracotta and porcelain and Sa Huynh pottery. Much can be learnt here of the Oc Eo culture, Cham Pa culture and the Dai Viet Culture.
About 10km from the complex is the Dung Quat refinery plant, located 338 hectares on land and 471 hectares onto the sea. The plant's output is about 6.5 million tons per year, which meets 30 percent of the country's demand.
Visitors can visit the plant but have to follow strict regulations of security and safety. Many visitors travel by motor boat on sea to view the plant, the nearby port and the largest sea dyke in Southeast Asia (total length 1,600m).
Other beautiful beaches in Quang Ngai Province are Sa Huynh in Duc Pho District, My Khe in Son Tinh, Minh Tan in Mo Duc and Le Thuy in Binh Son.
Another must visit destination for tourists is Ly Son Island. From Sa Ky Port in Son Tinh District, one can travel 25 kilometers on a high-speed boat which carries up to 100 people or a cargo vessel that can carry about 50 people, to visit the island. The boats make only one trip to the island each day.
Ly Son is an island district which is nearly 10 square meters with three communes across two islands and 21,000 inhabitants. The island has many old volcanic craters and laterite and black stone soil, which could have been formed by volcanic lava which swept into the seaside.
Even though the island has beautiful beaches and several exotic specialties, yet tourism has not developed here. While visiting the island, people can stay overnight as there is only one boat trip per day to take them to the island. The electricity supply is weak and fluctuating in its old and run down hotels. Roads here are narrow and the island has a total of only four 15-seater buses.
Cruising by boat around the island will provide an opportunity to see numerous coral colonies under the water.
Ly Son is the cradle of the Hoang Sa (Paracel) Islands. It has a museum filled with relics and old landscapes, depicting the sovereignty of Vietnam on the East Sea. Am Linh Tu Pagoda and Gio Tomb site are monuments to remember the soldiers who laid down their lives for the country's sovereignty of the area.
Another very interesting spot is the Duc pagoda which is at the foot of a crater. There is a 27m high statue of the goddess of mercy overlooking the Be Island. At the top of the crater is Tien (fairy) well. There are three caves and also three smaller pagodas along the way to the crater top.
The island also has the Hang Pagoda which was built 300 years ago inside a stone cave.
Ly Son has many original ancient architectural works including the An Hai Village communal house, Lang Chanh and Ca Ong temples and Tam Hoa and Thiem Y Ana palaces.
Tourists can climb up To Vo Mountain to see the dusk or to Thoi Loi Mountain, which has a huge crater and a stunning view at dawn.
There is also the Truong Luy relic, a newly-recognized national site running from Tra Bong District to An Lao District in the neighboring province of Binh Dinh. The site has fences and trenches surrounding it and much development work needs to be done to convert Truong Luy into a tourist destination. 
Quang Ngai is also well-known for its Thien An ancient pagoda, Huynh Thuc Khang tomb relic, Chau Sa ancient rampant and items of Sa Huynh Culture.
Quang Ngai food comprises of many delicious and exotic dishes. Ly Son garlic is a specialty which is loved nationwide. Ly Son garlic grows in sea sand and has a very distinctive flavor. Tra river goby, Ly Son sea cucumber, fried don (a kind of mussel) served with girdle cakes and An Tiem watermelon are all indigenous to the island.
 
Quang Ngai Province could become an attractive tourist destination for those who love the sea, natural landscapes, delicious fresh food and warm and friendly natives.